Stephen K. Breininger, CPA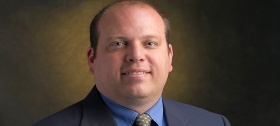 Stephen K. Breininger, CPA – Vice President-Finance and Regulatory Affairs and Controller for PPL Electric Utilities – was elected Da Vinci Science Center Treasurer in May 2014 and re-elected Treasurer in June 2016. Breininger has been a Da Vinci Science Center Trustee since Feb. 2013.
Breininger has nearly two decades of experience in accounting, financial controllership, and financial reporting. Before assuming his current position at PPL, Breininger served as its Assistant Controller-Business Lines and as Controller for the former PPL Supply segment.
Breininger worked previously for Air Products, Wood Dining Services, and Deloitte & Touche. Breininger also has been a Congregational Council member for Weisenberg Lutheran Church in Weisenberg, Pa., and a volunteer for Meals on Wheels of Lehigh County.
Breininger, a certified public accountant, holds a bachelor's degree in Accounting from Penn State University and a master's degree in Management from DeSales University.