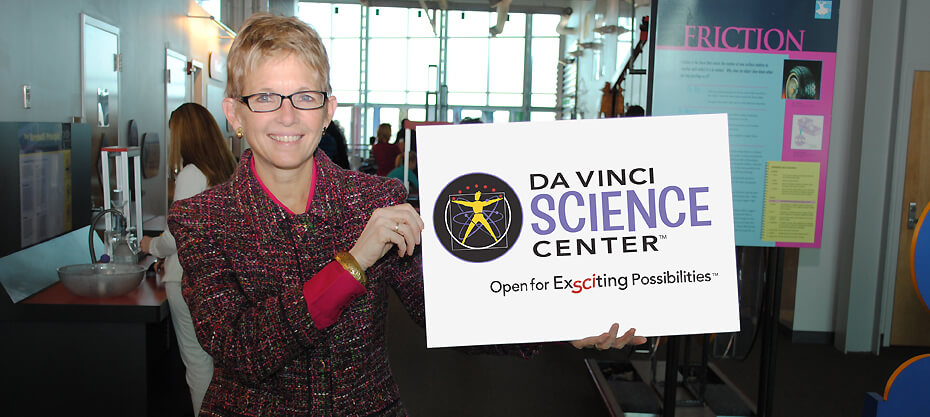 Lin Erickson has been the Da Vinci Science Center's Executive Director and CEO since March 2013 after serving as its Executive Director previously from 1997-2005. As the Center's Chief Executive Officer, Erickson also is a member of its Board of Trustees.
Erickson's second tenure as CEO has included years of record-breaking visitation and program and event participation; an expansion of its educational and community partnerships; a formalization of its efforts to support current and future female professionals in the STEM fields – science, technology, engineering, and mathematics; and increased emphasis on high impact programs with career connections for underserved students.. Erickson also led the Center's creation and adoption of its 2016-2019 Strategic Plan, titled Greater Possibilities, and is currently leading the development of a major new science center in downtown Allentown.
During her first tenure as CEO, Erickson established the organization as an independent nonprofit corporation and a regional leader in science education. She also spearheaded the Center's merger with Leonardo da Vinci's Horse, Inc., and directed campaigns of $1.9 million and $10.8 million, with the latter supporting construction of its visitor facility in Allentown, Pa. Erickson stepped down as the Center's CEO in Aug. 2005 – shortly after her husband, Mark Erickson, Ph.D., became President of Wittenberg University in Springfield, Ohio.
Erickson has nearly 30 years of experience spearheading educational initiatives for students from kindergarten through college – raising more than $93 million from public and private sources. She was Chief Development Officer of the Air Force Museum Foundation in Dayton, Ohio, from 2011-2013, and Director of Government, Corporate, and Foundation Relations at Wittenberg University from 2006-2011.
Erickson held progressive leadership roles earlier in her career with Northampton Community College and Lehigh University – developing innovative partnerships between the public and private sectors to advance workforce competitiveness – and was a middle school teacher.
Erickson holds a bachelor's degree in Education from Smith College in Northampton, Mass., a master's degree in Educational Technology from Lehigh University, and an MBA from The Wharton School at the University of Pennsylvania.