The MEGA Brain
Discover how your brain works from the inside out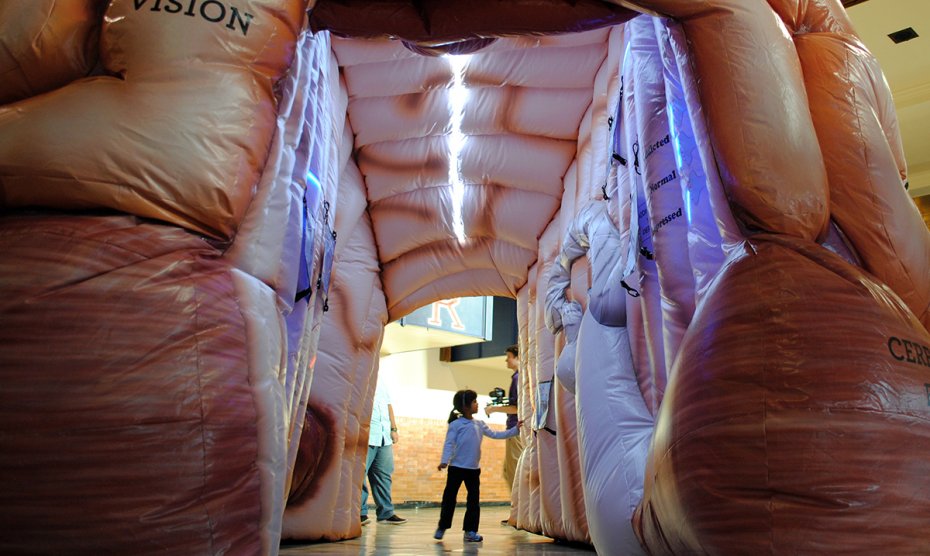 The MEGA Brain: the world's only portable, inflatable, walk-through brain exhibit.
Da Vinci Science Center outreach educators travel with The MEGA Brain to events across the Lehigh Valley and deliver hands-on science programs for curious minds of all ages. Book an event for your school, scout or youth group, community organization, or family.
 Explore The MEGA Brain
Participants enter through the frontal lobe, which is responsible for personality and higher cognitive functions, and exit through the cerebellum, the portion of the brain that controls balance and coordination. Along the way, they learn about:
Stroke, addiction, and other common brain conditions
How to keep your brain healthy
The latest medical treatments for brain trauma and disease

The MEGA Brain showcases a variety of features, both inside and outside the brain, including:
INSIDE:
Stroke
Alzheimer's disease
Headaches
Parkinson's disease
Epilepsy
Meningitis
Multiple Sclerosis (MS)
OUTSIDE:
Brain tumor
Brain trauma
Brain protection
Brain imaging
Stroke
Aneurysm
[Best_Wordpress_Gallery id="27″ gal_title="MEGA Brain"]
Other MEGA Brain Appearances
The MEGA Brain appears at several Da Vinci Science Center events throughout the year. Weekday programs are great for school groups and homeschooled families.