ALLENTOWN, PA.—   Winter "wonder" land takes on an entirely different meaning at Da Vinci Science Center. From Dec. 26 through 31, visitors can take part in several winter-themed activities that invite little scientists to look more closely at the wonders of nature.
Visitors can design their own unique snowflakes and watch them soar to new heights as they fly through wind tubes in Leo's Creativity Studio, examine snow crystals under a microscope, and learn how ice crystals form with dry ice.
Plus, who needs an ice skating rink when you've got a carpet and carpet skates. Attach special carpet skates to your shoes and away you go! Visitors also won't want to miss the Frozen Live Science Show with giant clouds and frozen bubbles.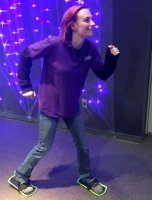 These special snowy activities are included with general admission or membership.
To keep visitors and staff safe and healthy while they have the most fun with science, masks are required for everyone over the age of 2 in accordance with CDC recommendations. Due to capacity limitations, advance reservations are highly recommended in order to ensure entry on a preferred date. Tickets available online.