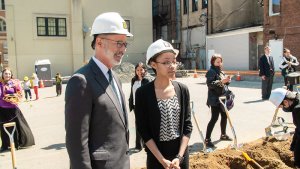 Celizandra is passionate about all things STEAM. 
This young Allentown native (pictured here with Gov. Wolf at the groudnbreaking) is excited to see the new Da Vinci Science Center at PPL Pavilion become part of her neighborhood. She also sees a future where STEAM plays a central role in her life.
What impact has your involvement with Da Vinci Science Center had on your outlook?
In middle school, before I was involved with Da Vinci Science Center, I really didn't think about STEAM as a concept, but it opened my eyes to how technology is about more than robots. One of the biggest things that surprised me is the number of different kinds of people involved in STEAM. There are so many career possibilities and things to learn.
Do you have a preferred area of STEAM?
Definitely engineering. I've always been into seeing and making things come to life – the video games I play, art I make, movies I watch. Through engineering you bring your creations to life. Think about a simple thing like the pencil and how it is used to bring our ideas to life. As part of an engineering class, we take apart and rebuild old computers and it gives me such a sense of satisfaction to take something apart and bring it back to life.
What do you want to do in the future?
I'm not sure exactly but something that involves computers and maybe animation. My interest in these areas started when I was a young child watching my dad play video games and then playing creativity-based games like Minecraft myself. I loved those games – both creating and being inspired by other people's creations. It was a great community.
What might people be surprised to learn about you?
My love comics and graphic novels. Two of my favorite comics are Gravity Falls and Euphoria. The Girl from the Sea by Scott Pilgrim is a great graphic novel.
Who are some of your role models?
I look up to artists like Toby Fox, who created a role-playing video game called Underkill. He developed the game and composed all the music for it. I also look up to my friends who are over-achievers and inspire me to want to do more.