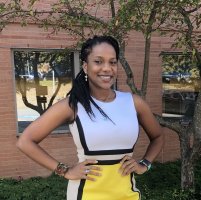 Karilyn Ruiz Reyes is the Corporate Continuous Improvement & Process Manager at B. Braun Medical Inc., headquartered in the Lehigh Valley.​
Karilyn is a proud Afro Latina who started her STEAM journey back in her home country of Dominican Republic. There, she earned her Industrial Engineering degree from Instituto Tecnológico de Santo Domingo thanks to a scholarship awarded when she was selected "Joven Promesa Nacional" (Young National Promise, in English), in 2007.  In 2012, she was once more awarded a scholarship to complete an International Master's Degree in Spain, where she earned her Master's in Food Quality and Safety. Karilyn also had the opportunity to complete her thesis in the Instituto de Ciencia y Tecnología de Alimentos y Nutrición  (ICTAN) of Spain.​
In her professional life, Karilyn started working at the National Statistical Office in DR and supported the logistics and planning activities for 2010 National Census. She then joined B. Braun Medical Inc. located in Santo Domingo, where she was promoted to several positions with increasing responsibility within different areas. In 2018, she was transferred to the United States to the OpEx / CI Department at the B. Braun plant in Allentown, PA. She recently transitioned to Corporate, where she supports the Continuous Improvement and Processes programs for various departments and  B. Braun locations across the country. ​
Karilyn is a passionate advocate and volunteer for multiple education, diversity, inclusion and STEAM initiatives and programs. She loves to stay active and enjoys spending time with family and friends. She is currently finishing up her MBA in Data Analytics at DeSales University. When she is not working or analyzing data, she is doing yoga, Pilates, walking or anything that keeps her moving. ​