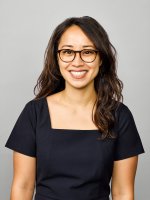 Marinna Madrid, Ph.D. is a co-founder at Cellino, a venture capital-backed biotech company building the next generation of cell-based tissues and therapies with a proprietary platform technology.​
Marinna received her PhD and MA in Applied Physics from Harvard University, where she co-invented laser-based intracellular delivery techniques. She received her BSc in Biophysics from University of California, Los Angeles, after transferring from Riverside Community College. She is the recipient of the Harvard Graduate Prize Fellowship, the Catalyst Accelerator Grant from Harvard Medical School, and is on the Forbes 30 Under 30 2019 list for Healthcare. She has several patents, peer-reviewed publications, and wrote the first review paper on autologous iPSC-based cell therapies.
Marinna is also passionate about access to education and the role the community college system plays in providing upward mobility for historically disadvantaged groups.​