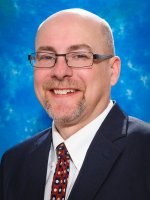 Ken Remick's natural curiosity has guided his career working with business owners to find financial solutions that improve and drive business operations. Finding financial solutions for businesses of all sizes is what drives Ken Remick in his role as VP, Sr. Relationship Manager for Fulton Bank. His 37-year career in banking puts a slightly different spin on the "M" in STEAM. 
Did you always want to work in banking?  
From the time I got my first computer in 1982-83 I wanted to work with computers and attended Upper Bucks County Technical School for Computer Programming while in high school. My intent was to study computer science in college. That all changed thanks to a neighbor who worked for a local bank in Quakertown. She approached me to apply for an open position wrapping loose coin for the bank and that's how my career in banking started two months before my 16th birthday.  
I went through the American Institute of Banking, now known as the American Banking Institute, and earned an associate degree in business administration. I did eventually go and obtain a two-year degree in Network Administration and remain active in various projects within Fulton involving new technology. 
What is your typical day like?  
 A typical day as a Relationship Manager is anything but typical. Every day is different, but I spend most of my time ensuring my commercial customers I handle for Fulton within the Lehigh Valley have the banking services they need to support their businesses. I love my job with Fulton as it allows me to meet a passion I have always had for the pursuit of knowledge. I like to know how things are made and work. I enjoy visiting new and existing customers, learning about what they do and being excited by the passion they have for their companies.  
What would you say to a young person interested in pursuing a similar career?  
I would recommend they consider starting their career in a bank's branch/financial center network as a bank teller handling deposits and withdrawals for customers and then look into a management trainee program to get a glimpse of various areas within a bank. If they intend to go to college, many banks have summer Intern programs for various areas of studies ranging from Finance to Computer Science.  
What do you do when you aren't working?   
What am I not doing when I'm not at work! I enjoy the outdoors – I hike, bike, ski and golf. I am also a general handyman and if I am not completing projects for myself, I can usually be found helping others. My commitment to the community also has me involved on various Boards and Committees ranging from serving as Board President for HADC providing low to moderate income housing in Allentown to helping the youth in our communities as a past president of the Optimist Club of Kutztown. Above all else I love to spend time with family and friends.