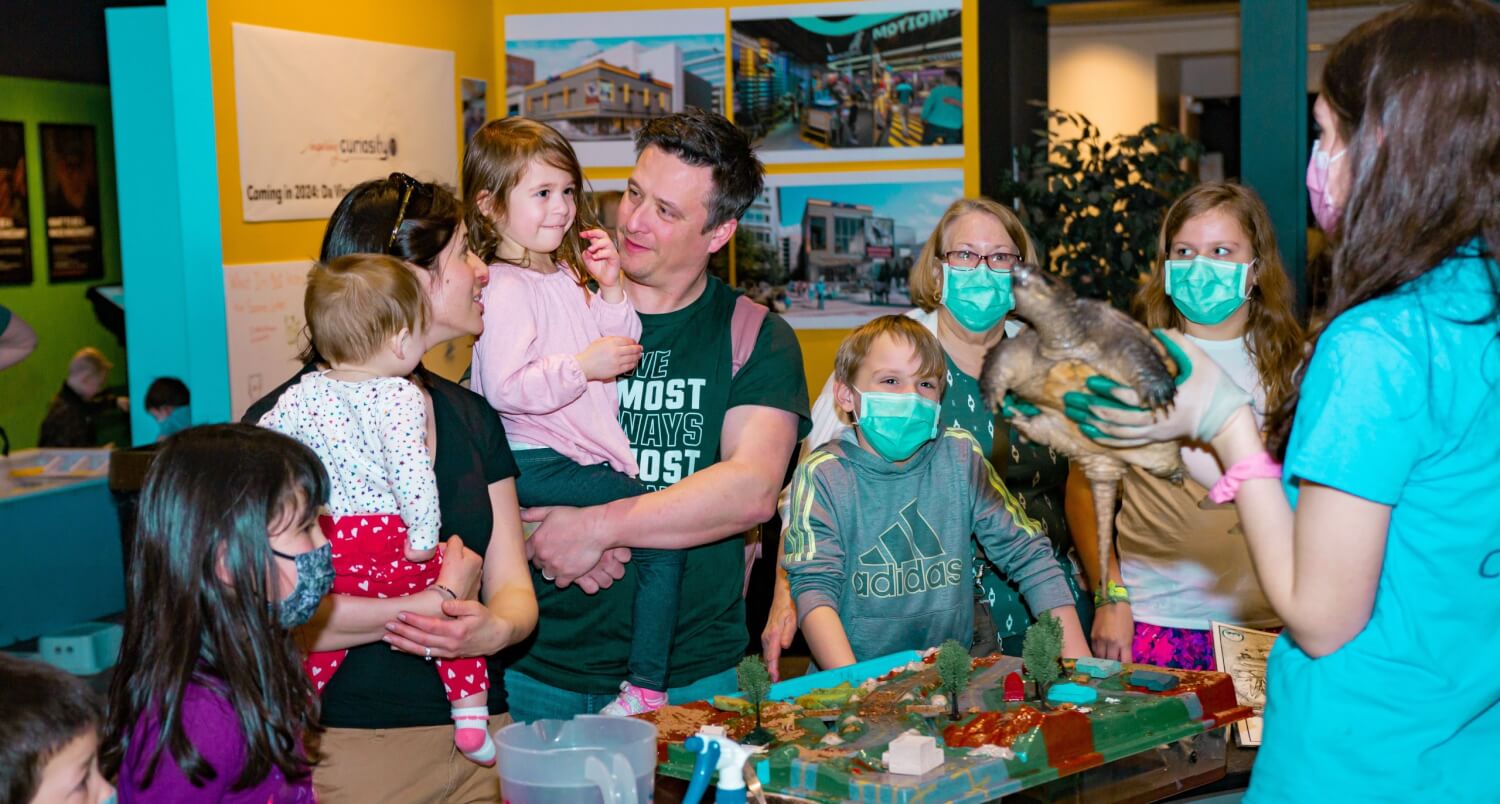 The Leonardo Society celebrates individuals who contribute $1,000 or more annually to the general operations of Da Vinci Science Center and/or the Linny Fowler STEAM Scholarship Fund.  Contributions to support general operations provide resources for staff training, investment in instructional materials, and the development of new programs to meet high priority community needs. Contributions to the Linny Fowler STEAM Scholarship Fund remove economic barriers for students and families and make STEAM (Science, Technology, Engineering, Arts and Math) education more accessible for all as we advance our mission to bring science to life and lives to science.
Leonardo Society Membership Benefits
All standard Da Vinci Science Center membership benefits, including unlimited admission to the Center, for up to two (2) adults and four (4) children.
Free general admission to more than 350 science centers around the world through the Association of Science and Technology Centers (ASTC) Passport Program.
Recognition as Leonardo Society member in all pertinent Da Vinci Science Center publications.
Discounts on store merchandise, birthday parties, summer camps, and more.
Leonardo Society Members
| | |
| --- | --- |
| George and Judith Arangio | Cathy and Tom Lynch |
| Gladys Barclay | Brandon Marth |
| Robert and Kristen Bennett | Jim and Renee McLean |
| Nasreen Bhatt | Elizabeth Meade and Arturo Perez |
| Stephen and Marcella Breininger | Maureen Michael |
| Robert and Regina Bryson | Joan Moran |
| Rick and Amy Bucher | Bridget O'Connell |
| Dick and Peg Bus | Guido and Terri Pez |
| Lee and Dolly Butz | David and Jamie Quier |
| Michael Caverly | Sallyann Ragosta |
| MaryEllen and Kevin Dickey | Edie Ritter |
| Ted and Amy Douglass | Joel and Beth Rosenfeld |
| Lin and Mark Erickson | Salim and Manal Salet |
| Jane and Gene Ervin | Mike and Diane Salute |
| Arjana and Jeff Etchason | Nigel Sanders |
| Scott and Cathy Fainor | Susan and Bill Schierwagen |
| Beall Fowler | Frank and Yvonne Schweighardt |
| Bob and Susan Gadomski | Tom and Pat Seidenberger |
| Michael Gausling | Vince and Michelle Sorgi |
| Jack Gross | Mike and Wendy Stoudt |
| John and Denise Jones | Charles Versaggi |
| William and Patti Lehr | George White |
| Bob and Sandy Lovett | Carl and Debra Zvanut |

Contact: MaryEllen Dickey
Membership List as of June 30, 2022