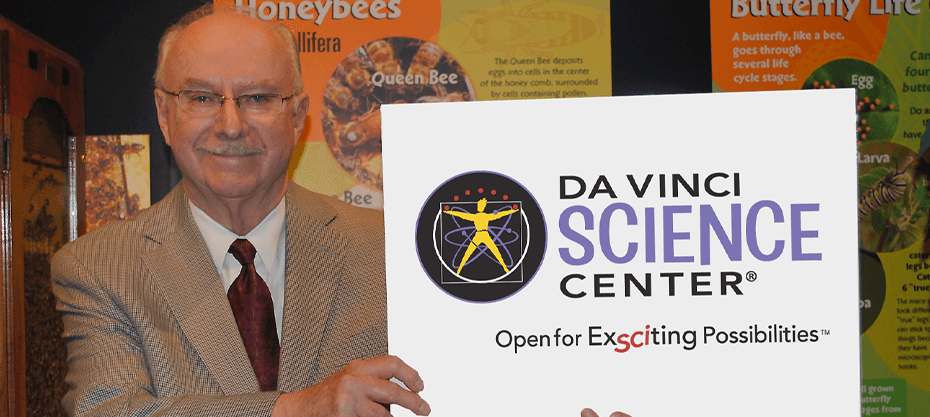 The Da Vinci Science Center's Board of Trustees oversees the organization's activities, holds fiduciary responsibility for the organization, and provides strategic direction to ensure that the organization is able to fulfill its mission. The Board of Trustees meets quarterly and the Executive Committee meets up to 14 days before each board meeting. Additional committees meet quarterly as scheduled.
Chairman
James E. McLean, WMS, Senior Vice President, Steel Valley Wealth Strategies,  Raymond James 
Vice Chairman
Jack Gross, Esq., Partner, Gross McGinley Attorneys at Law
Secretary
Susan Schierwagen, Vice President of Product Development, Victaulic
Treasurer
Michael J. Stoudt Jr., CPA, Managing Partner, Lehigh Valley Region, RKI, LLP
Chief Executive Officer
Lin Erickson, Executive Director and CEO, Da Vinci Science Center
Trustees
Michael Bartholomew, Vice President and General Manager, Allentown Operations, B Braun USA
Farah Bennani, Ph.D., Dean, STEM, Northampton Community College (NCC)
Dean Bestwick, Vice President, Northeast Region, Mack Trucks North America
Ann D. Bieber, Ed.D., President, Lehigh Carbon Community College (LCCC)
Daniel C. Bosket, Director, Community Action Development Corporation of Allentown
Stephen K. Breininger, CPA, Vice President-Corporate Audit, PPL Electric Utilities
Dick Bus, President, ATAS International, Inc.
Hon. Jane R. Ervin, CEO/President, Retired, Community Services for Children, Inc. (CSC)
W. Beall Fowler, Ph.D., Professor Emeritus of Physics, Lehigh University
Joseph S. Kovalchik, Superintendent, Northampton Area School District
Catherine Lynch, Community Volunteer/Former Non Profit CEO
Elizabeth M. Meade, Ph.D., President, Cedar Crest College
Richard Milker, Senior Vice President of Product and Commercialization, Stuffed Puffs
Amanda Morton, Director Channel Marketing, Lutron Electronics
Bridget O'Connell, Ed.D., Superintendent, Palisades School District
Donald A. Outing, Ph.D., Vice President for Equity and Community, University Diversity and Inclusion Officer, Lehigh University
Edith Ritter, Executive Director, Retired, Manufacturers Resource Center
Joel C. Rosenfeld, M.D., M.Ed., FACS, Chief Academic Officer, St. Luke's University Health Network, and Senior Associate Dean, Temple/St. Luke's School of Medicine, Retired
Michael P. Salute, Director of Workforce Development, Reading Area Community College, Retired
Stephanie Sherry, Vice President, Corporate Communications, Corporate & Medical Communications, Olympus Corporation of the Americas
Vincent Sorgi, President & CEO, PPL Corp.
William K. Velekei, CPA, CFP®, Partner, Mariner Wealth Advisors
George P. White, Ed.D., Managing Director for Student Access and Success, Retired, Lehigh University
Stephen Zieniewicz, FACHE, President, Lehigh Valley Hospital – Cedar Crest, Senior Vice President, Lehigh Valley Health Network
Emeritus Trustees
J. Robert Lovett, Ph.D., Executive Vice President, Retired, Air Products and Chemicals, Inc.
Frank K. Schweighardt, Ph.D., Global Manager of Process Analytical, Retired, Air Products and Chemicals, Inc.
Board Committees
---
Contact: Board of Trustees