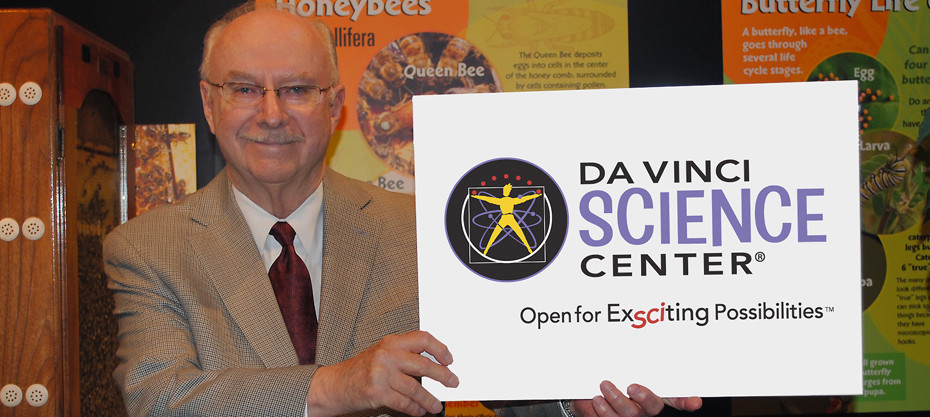 The Da Vinci Science Center is a national award-winning science center and industry leader with a rich history. The Science Center's story begins in 1989, when Bob Ballard, Ph.D. – the explorer who found the remains of the RMS Titanic – asked Lehigh University to be a host site for his interactive JASON Project expeditions after The Franklin Institute in Philadelphia, Pa., had declined to host the project for a second year. Lehigh officials seized the opportunity with support from the Junior League of the Lehigh Valley, the Bethlehem Junior Women's Club, and an anonymous benefactor. The partners began hosting JASON broadcasts in April 1990 and formed the Science Model Area Resource Team (SMART) Center at Lehigh in the fall of 1992 to offer more interactive science learning experiences for students and resources for teachers.
The SMART Center produced a popular three-day public event in 1994 called the Discovery Expo that offered a variety of fun, hands-on science activities. Its success encouraged Lehigh and its partners to open a small public visitor experience with limited hours called the SMART Discovery Center in April 1995 in a former Bethlehem Steel Corporation building in the city's south side. The renamed Discovery Center of Science and Technology opened an expanded visitor experience in a larger former Bethlehem Steel building in April 1997 and closed out its successful hosting of JASON Project broadcasts the following year.
Discovery Center leaders announced on July 1, 1999 that the Center had spun off from Lehigh University, had become an independent nonprofit organization, and had taken ownership of its building through a gift made possible by its original anonymous benefactor. The Center proceeded to establish a regional reputation for excellence in science, technology, engineering, and mathematics (STEM) education and teacher professional development. The Discovery Center then merged with Leonardo da Vinci's Horse, Inc., (LDVHI) in July 2003 through the efforts of the Center's Founding Chairman, J. Robert Lovett, Ph.D. – a retired Air Products executive, avid patron of the arts, and member of the LDVHI Board of Directors.
The merged organization would become known as the Da Vinci Science Center. While remaining first and foremost a public science center and a champion of science, technology, engineering, and mathematics (STEM) education, the Center also highlights science's connections with areas of public interest, especially the arts, and promotes curiosity, creativity, and the qualities of greatness that have been embodied by Leonardo da Vinci and transformative men and women who have succeeded him – as adapted for 21st century life.
The Da Vinci Science Center moved to its current 29,000-square-foot facility in Allentown, Pa., in the fall of 2005 through a lease agreement with Cedar Crest College. The Science Center expanded its vibrancy and popularity as an attraction for families and curious minds of all ages in the following years with its playful and colorful exhibits, blockbuster traveling exhibitions, and engaging public programs. It also has expanded its focuses on partnerships that focus on scientific and technical workforce development and the integration of the arts into STEM or STEAM. Da Vinci Science Center aims to ensure STEAM access for all, providing educational opportunities for rising scholars with limited financial means and an Access Discount Program that enables qualified individuals and families to visit.
Today's Da Vinci Science Center experiences and collaborations spark curiosity in STEAM subjects by presenting them in informal, creative, and interesting ways. By awakening students' interests and promoting fundamental skills, the Science Center and its partners inspire and prepare young men and women to consider STEAM careers that meet growing industry demands.
The Da Vinci Science Center has achieved national and regional
recognition, including the following:
• The American Chemical Society 2019 Lehigh Section's Partners for Progress and Prosperity Award in recognition of the Da Vinci Science Center's successful and exemplary partnerships.
• Community Services for Children's 2016 Inez and Edward Donley Award for
Children's Advocacy in recognition of public service that improves quality of life significantly for children.
• The United Way of the Lehigh Valley's 2014 Innovator's Award for collaborating with schools in the community to inspire students to explore science, technology, engineering, and mathematics (STEM).
The Da Vinci Science Center continues to gain momentum, with a record-setting 154,000 engagements in 2019.   In October of that year, the Science Center announced plans to build a major, new state-of-the-art facility in downtown Allentown PA that will be completed and open to the public in 2024.