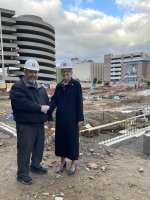 Contact: Caroline.Scutt@nulldavincisciencecenter.org
ALLENTOWN, PA., Nov 30, 2022— The Da Vinci Science Center is thrilled to announce Senator Pat Browne secured an additional $1 million grant from the Commonwealth of Pennsylvania through the Redevelopment Assistance Capital Program (RACP) to support the construction of its new state-of-the-art facility in downtown Allentown.  
This award will fund the outfitting of the shell space in the Da Vinci STEAM Learning Center to create a Fab Lab, Media Production Studio, and Preschool Area. This support matched by funding from a generous private donor ensures that this workshop and classroom space is fully functional when the new facility opens.  
"We are extremely thankful to Senator Browne and the private donor for helping us to provide Lehigh Valley youth from across the region, and specially within the surrounding neighborhoods, access to a makerspace with the tools needed to bring ideas to life and encourage the next generation of scientists, artists, problem solvers and community builders," said Lin Erickson, Executive Director and CEO.  
"This brings our total RACP funding to $12 million and ensures that when Da Vinci Science Center at PPL Pavilion opens in 2024 it will be a regional center of excellence for STEAM (Science, Technology, Engineering, the Arts and Math) education." 
In addition to his leadership securing major state funding to support the new downtown science center, Senator Browne has secured funding for operations and educational programs at the Cedar Crest facility and sponsored the much-loved annual Kids Discovery Expo, a legislative event opening the Science Center free of charge to Allentown families one day each fall, providing hands-on experiences for families to enjoy together, free lunch, and information and programming provided by community organizations across the region.   
The Da Vinci Science Center is closing in on its $72 million fundraising goal with an additional $6 million still to be raised. "We once again want to thank Governor Wolf, Senator Browne, and the entire Lehigh Valley legislative delegation for investing state funds in our new science center in downtown Allentown, Erickson noted. "I have no doubt that the Lehigh Valley community will continue to see the value in this project and help us reach our fundraising goal."  
For more information on the new Da Vinci Science Center at PPL Pavilion or to donate to the project, visit https://pplpavilion.davincisciencecenter.org/