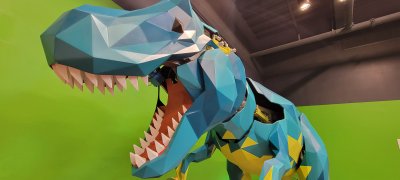 ALLENTOWN, PA. Sept. 1, 2023 – Some might say a T-Rex brought to life, others a hydraulic animatronic marvel. Either way, the new Rexroth Dinosaur on display at Da Vinci Science Center won't disappoint visitors.
Visitors control various moving parts of the towering 8ft tall and 11 ft. long robotic dinosaur to observe the power and precision of hydraulic systems. Portions of the dinosaur's scenic shell are removed, exposing the inner hydraulic components in the tail, hips, neck, and jaw.
Guests will be able to bring the dinosaur to life using the same hydraulic technology that Rexroth developed to drive industrial and mobile machines ranging from motors to pump systems, including controllers. In fact, hydraulic technology can be found in almost every manufacturing process thanks to its ability to move things efficiently and precisely.
The Rexroth team that created the dinosaur comprised Application Engineers, Control/Design Engineers, Assembly Testing & Paint Technicians, Project Managers, Customer Service Representatives, and Graphic Designers – a multidisciplinary example of STEAM – Science, Technology, Engineering, Art and Math – STEAM in Action.
The Rexroth Dinosaur is a glimpse of exhibits to come when the new Da Vinci Science Center at PPL Pavilion opens in the spring of 2024, where it will be on display in the Science in the Making exhibit gallery, presented by ATAS International. The gallery will surround visitors with the innovation of Lehigh Valley industry. Exhibits such as the Rexroth Dinosaur will invite guests to explore scientific principles and phenomena and how they are applied in everyday making and advanced manufacturing while showcasing Lehigh Valley Companies and jobs that use STEAM to bring ideas to life.
The new Da Vinci Science Center at PPL Pavilion will offer 30,000 square feet of exhibit experiences, including a digital gallery where visitors can create 3D animations on a 54-foot high screen while exploring topics that fascinated Leonardo da Vinci; an immersive walk-through, climb-through human body experience sponsored by LVHN (Lehigh Valley Health Network); the recreation of a Pocono Ravine, presented by Alvin H. Butz, featuring North American river otters; and the City Center Gallery featuring award-winning traveling exhibitions, and the Science in the Making Gallery presented by ATAS International.