The MEGA Brain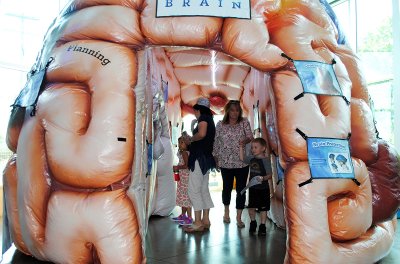 STEAM Team educators travel with The MEGA Brain to events across the Lehigh Valley and deliver hands-on science programs for curious minds of all ages. This 12-foot walkthrough inflatable brain is sure to add some unforgettable neuroscience to any event. Book an event for your school or community organization.  
Participants enter through the frontal lobe, which is responsible for personality and higher cognitive functions, and exit through the cerebellum, the portion of the brain that controls balance and coordination. Along the way, they learn about: 
Stroke, addiction, and other common brain conditions 
How to keep your brain healthy 
The latest medical treatments for brain trauma and disease 
Please note: The MEGA Brain can only travel to locations approximately 30 miles or less from the Science Center.