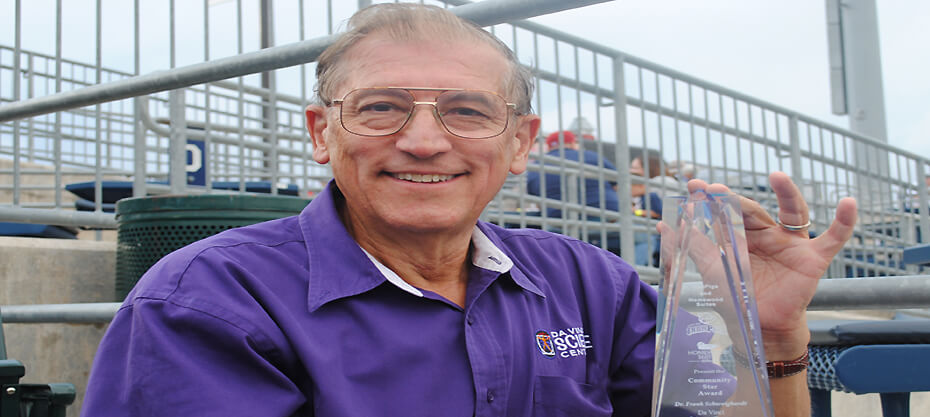 Frank K. Schweighardt, Ph.D., has been a Da Vinci Science Center Trustee since Feb. 2009, and was the Center's Chairman from 2010-2014. Schweighardt also served as the Center's interim CEO from Aug. 2008-March 2009 as part of a unique Da Vinci Science Center that he began as an energetic exhibit floor volunteer in 2006.
Schweighardt came to the Da Vinci Science Center shortly after retiring from Air Products in Trexlertown, Pa., intending solely to make a difference with visitors on its exhibit floor. A holder of more than 40 American and foreign patents as a chemist, Schweighardt was recruited subsequently to help the Center develop what is known today as its Inventor's Lab Program.
Schweighardt's retirement took a sharp turn in the summer of 2008 when Frank Steslow, then the Da Vinci Science Center's Executive Director and Chief Executive Officer, announced plans to assume a position with the Miami Science Museum. While the Center's Board of Trustees began a national search immediately for a permanent successor, it also searched for an interim leader. Impressed by Schweighardt's achievements as Global Manager of Process Analytical at Air Products and dedication to the Da Vinci Science Center's mission, the board asked Schweighardt to suspend his retirement and lead the organization through its transition.
Schweighardt would serve as the Center's Interim Executive Director from Aug. 2008-March 2009, earning praise for strengthening the Center's business models, streamlining its operations, clarifying its core strategies, and coordinating the search for a new CEO. The organization's board elected Schweighardt to a term as a Trustee shortly before the end of his tenure. Schweighardt served as Vice Chairman from 2009-2010 before his election as Chairman.
Meanwhile, visitors still see Schweighardt periodically doing what he likes best, bringing science to life for visitors on the Center's exhibit floor and wearing its volunteer vest proudly.
Schweighardt was the recipient of the Da Vinci Science Center's 2014 Spirit of Verrocchio Mentorship Award a – one of the Center's prestigious Hall of Fame Awards.
During his 27-year career with Air Products, Schweighardt established a new line of ultra-pure gases for use in laboratories. Schweighardt was also Chairman of the Board for the International Forum of Process Analytical Chemistry in 2003 and has been a member of several professional organizations. Schweighardt holds a doctorate in Molecular Biophysics and Physical Chemistry from Duquesne University, Pittsburgh, Pa., and a bachelor's degree in Chemistry from Seton Hall University, South Orange, N.J.